Harold "Hank" Hiner, age 94 Taken as a POW in Nazi Germany
Veteran: Harold "Hank" Hiner, age 94
Branch: United States Army
Service period: April 22, 1943, to Nov. 3, 1945
"I was home from college at Ohio State, riding in a friend's car, when the news flash about Pearl Harbor came over the radio," Harold Hiner recalled. "That immediately changed everything." That incident would eventually take the young Ashland County resident halfway across the globe and into the European theater of World War II, where he would become a prisoner of war in Nazi Germany.
Harold Hiner was born in Mansfield but raised in Ashland, on a 23-acre farm his father had bought along US 42, that also came with a gas station. "Hank," so christened by an aunt, and his siblings helped out around the farm and at the station. When time permitted during the summers, he could often be found swimming at Brookside Park. Harold graduated from Ashland High School in 1940, enrolling at the Ohio State University in Columbus in the fall to pursue degrees in agriculture and economics. In April 1943, however, Hiner decided to enlist.
"In the spring (of 1943), everyone was joining up. I went to enlist in the Army Air Corps but they wouldn't take me because I was color blind. Same thing with the Navy. The regular Army, they took me right in."
Hank was sent to Fort Eustis, Virginia, for basic training and artillery school; he would, however, take a slightly different course.
"After I got there I sent home for my snare drum," Hiner chuckled; he had become an avid drummer in high school. "We'd go on these marches and I carried my drum instead of a field pack, and I'd keep cadence while we marched." That skill got him transferred to the base's cadre band, which came with the added benefit of a pass that allowed the young soldier a little extra freedom from the camp confines. "I thought, 'This is great, I'm gonna be here.'" It wouldn't last.
"They transferred me down to Fort Benning, Georgia, for infantry training." Due to Hank's 1-A classification, meaning he was fit for duty, the Army decided he would better serve his country in a combat unit. Looking back, Hiner called it "one of the bad days of my life." Hank was assigned to the newly formed 94th Infantry Division, which eventually shipped out for Europe from New York harbor. "We were on the British ship Queen Elizabeth, the entire division, because it was very fast and could out-run the submarines."
After short stays in Grenock, Scotland, and Earlstroke, England, the 94th Division crossed the English Channel and landed on Omaha Beach, exactly three months after the D-Day landings on June 6, 1944.
"We relieved the Sixth Armored Division at L'Orient," Hiner recalled. "We were a part of Patton's 3rd Army." When asked if he'd ever had the chance to see General George Patton in person, Hank replied, "No. I was infantry; he was usually with the tank outfits. Patton was to the Americans what (General Erwin) Rommel was to the Germans."
While at L'Orient, the German Army attempted to break out of that area, causing Hiner and his fellow combat troops to dig many foxholes for cover and concealment. "We'd cover it over with some makeshift stuff and dirt," he recalled. "I wrote letters to home in that burrow by candlelight."
During that time, PFC Hiner was chosen as a "volunteer" for scout duty. "They'd say 'you, you and you are going to volunteer to be scouts.' That's just how it was." The scout teams, comprised of four men, would conduct reconnaissance on German lines, positions and activity, a highly dangerous job. When the scout team would discover a high-value target, they would radio the information and coordinates back to their headquarters and "our artillery would hit them."
One operation in particular Hank will never forget: the attempt to take the town of Orsholz, which lay behind German lines. "We got trapped, had to run across a field. I took my boots off and ran barefoot through the snow so I could run faster" while under fire, Hiner recalled. "That was a bad idea because I got frostbite." Hank and the rest of his company took refuge in an abandoned brick factory, trying to avoid Nazi artillery and mortars. As German troops closed in and their position became untenable, the company commander made the decision to surrender. The date was Jan. 21, 1945.
Hank remembers a series of forced marches and a train trip in railroad freight cars that finally brought them to the German town of Limburgh and Stalag XII A, a prisoner-of-war camp. "We slept on straw inside a large building without heat or blankets", he recalled. The POWs were given a sixth of a loaf of bread per day and a little thin soup "that had two or three small potatoes in it." Sanitation for the men didn't exist under such filthy conditions, causing virtually every prisoner to become infested with lice. They would remain that way until the end of the war.
Another trip by rail in the cattle cars took place on Feb. 17 and lasted five days; at one point the train was strafed by American aircraft, unaware that Allied POWs were inside the cars. Hank and his outfit were finally unloaded at Stalag XI B, outside the northern German town of Fallingbostel on the banks of the Weser River.
"They (Germans) treated us OK, except we didn't get much food. Of course, at that point the Germans didn't have much food, either. We were just about to starve to death. I had a sweater and I ended up trading that to a German guard for a loaf of bread."
Hank recalled that there were other Allied prisoners in Stalag XI B besides Americans. "The British had their own section, there were some French and Polish, and Russians.
Liberation day for those in Stalag XI B came on April 16, 1945, in the form of B squadron of the 11th Hussars British Armored Division. "Those Limeys, with their heads sticking out of the tanks, looked mighty good to us," Hank said. The POWs were kept in the camp and administered medical aid, rations and water for a period, then shipped to Brussels, Belgium, where, thanks to American-supplied disinfectant, they were finally and completely deloused.
Once back in the States, Hiner said he hitch-hiked home to Ashland, where a joyous reunion with family took place. "I was walking up the drive when my Mom saw me and started yelling 'Hank's home! Hank's home!' They didn't know what had happened to me. I was declared missing in action, so it was quite a shock when I got home," he smiled.
During his time in service, Hank was awarded a Bronze Star and Purple Heart.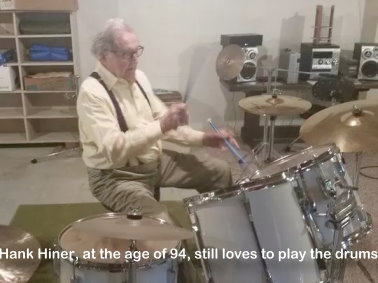 Now-Corporal Harold Hiner married his sweetheart, Betty, with whom he enjoyed 70 years of marriage until her passing last year. Together they raised three daughters as Hank worked first in the feed industry before moving on to being a stock broker. Living in rural Ashland County, Hank spends his days visiting with friends, traveling and playing the drum set in his recreation room.
source: http://www.mansfieldnewsjournal.com/story/life/people/veterans/2017/09/04/veterans-story-taken-pow-nazi-germany/624295001/?cookies=&from=global