WWII vet recalls end of war as prisoner
Bill Baumann was an Army infantryman in World War II in Europe, and spent his last weeks in the service in 1945 as a prisoner of war of the Germans in southern Germany.
Posted: Saturday, December 8, 2018 12:00 am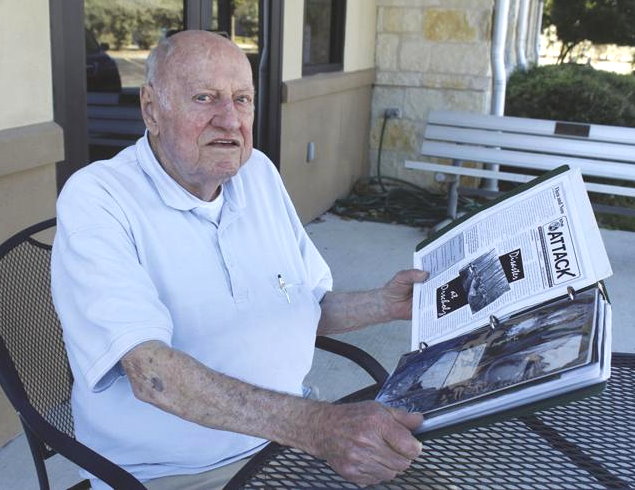 Bill Baumann, now of Kerrville, was a junior in Columbia High School, Pennsylvania, in December 1941 when Pearl Harbor, Hawaii, was bombed by the Japanese, thrusting the United States into World War II.
He was due to graduate in 1943.
He entered the military in 1943 and ended his military service in Germany as a prisoner of war in 1945, liberated by American troops.
At home, 1941
"None of us students had cars. We were lucky if one of our parents had cars. I had a buddy who had his dad's car. Three of us were driving around that Sunday when we heard the announcement about Pearl Harbor on the radio," Baumann said.
He said he had friends who left high school to join the U.S. military right away. One of them was another "farm kid" named Sam who foresaw himself always being a farm kid.
Baumann said he stayed in high school, but tried to enlist either in the U.S. Navy or Air Force the next school year. He and a friend went to the nearest town to a recruiting office and took the qualification test and medical check.
Baumann said he passed except that he still had his tonsils, and the recruiter turned him down. He went to the Army recruiter next.
The recruiter said they were getting so many volunteers in 1942-43 that they could be more choosy about new volunteers. So he signed Baumann up "provisionally" and said to return to high school and wait for a letter with a report date.
That letter came the next July about when he turned 18, and he reported for duty.
Military service
Baumann said, "You have to remember I was a kid from Pennsylvania. The Army sent us on a train to North Camp Wood, now part of Fort Hood, Texas – in July. I don't believe there was a Texan in the bunch, about 10-15 of us. They made me 'lead;' there was no officer. There was an Army sergeant waiting for us at the train station, I think in Waco."
Baumann was assigned to the Army Specialized Training Corps. He said the Army tried to send college-ready recruits to a university in Florida, but American losses in the war made them change that plan. So he was sent to Camp McCain, Miss., and then to Florida. But that program ceased after three months.
Baumann was reassigned to the 94th Infantry Division.
"When I think about it, I don't recall serving then with anyone who had been drafted. They were all volunteers. Later in Europe, when our troops were depleted, guys got drafted."
They were sent to a New York port to board the Queen Elizabeth ocean-liner-turned-troop ship on Aug. 6, 1944 to travel to Europe.
"I think there were about 20,000 troops on board, stacked in bunks eight to a stateroom. And the British crew only fed us mutton. I remember mostly staying on a deck."
The D-Day invasion at Normandy had already happened. Baumann said the 94th relieved another Infantry division in western France; and their major duty was containing the Germans guarding German submarine bases on that coast, to keep them from breaking out to go inland.
The enemy had about three times the number of American troops, he said. The Americans worked with the Free French patrolling that area.
Then the Battle of the Bulge occurred in December 1944. His unit relieved some troops that were overrun in Belgium; and later the 94th was transferred to eastern France to General George Patton's Third Army.
His unit was sent to the "Sauer/ Mosel (River) Triangle" at the border with Germany. Baumann said, "That area is famous for wine, but in the war the Germans had machine guns in the vineyards. There was lots of back-and-forth fighting and almost one whole company of infantrymen were killed there. It was a fluid situation."
He said not many war movies of that time or after matched the reality of combat, except "Saving Private Ryan." "I waited a long time before I saw that one; and I almost got up and left when there were scenes about American infantry waiting for German tanks to come."
Baumann said he and other troops were captured after they crossed the Sauer River to the town of Kumlerhof. "There were six houses and a church in that farm village. The Sixth Mountain SS Division overran us; and captured I think 19 of us. We had run out of ammo. I was a prisoner for a couple of months until the end of the war.
"I used to think we had a hard time as prisoners, until I talked to some survivors of Bataan. The Germans made us walk across southern Germany and the Rhine River, I guess toward Munich. There were about 1,000 Americans and the same number of British and some Hungarians and Russians, in a long line," Baumann said.
He also recalled some East Indian Sikh who were POWs from Africa. One of their officers said there were about 300 of them when they started. Baumann remembers about 30 men in that group.
"The Germans said they were going to put us in box cars on a train, but our side always blew them up before we got there," he said. "There was almost no food on either side, and sometimes we'd eat sugar beets raw out the farm fields. That probably wasn't good for us but we didn't have much else. Most of the German guards were older and didn't treat us meanly; and they weren't much better off than we were, and were marching every day along with us. When it rained there was no shelter; we all slept in the fields."
When they were walking through German towns on April 12, 1945, the German guards told them President Roosevelt had died, he said.
"I spoke a little German then, from my family roots. I could understand them better than they understood our English."
At the end, Baumann said they had finally found a farm community with some buildings still standing at Kimmlerhof the mid part of May 1945 and were sleeping in a barn the morning the 14th American Tank Group liberated them. The German guards had deserted their posts and disappeared.
"The Americans had an Italian cook and they fed us spaghetti, but I couldn't keep anything down. Most of us they ran through a hospital to be checked out – me, too. We were all enlisted, no officers."
Baumann was discharged as a tech sergeant.
Post-war years
Baumann said he was introduced to geology at a Pennsylvania university after the war. He called the "G.I. Bill" a real success story for himself, and eventually had a professional career with the U.S. Geological Service in mining engineering after going back to college in 1950.
He met his wife Gwen in Carlsbad, N.M., while working in the area. His family includes her daughter and son, two more daughters, grandchildren and great-grandchildren. Gwen is deceased.
Over the years he worked in Colorado and New Mexico, then Uvalde and Karnes County, Texas, and Wyoming where he retired.
He is a VA Medical Center patient here and a life member of the VFW. And at age 92 he still makes Meals on Wheels deliveries, something he started in 1996 and has had weekly routes since 2000.
Since the war, he's been to military reunions, one in Buffalo, N.Y., when their former company commander attended, and two other of Baumann's good friends from New York. At a St. Louis reunion he met a younger man who traveled to old military sites in Europe and had found a U.S. metal mess kit with initials and last name Scobbo. They were reunited with his buddy at the meeting.
source: www.hccommunityjournal.com/article_de27d68c-f8e5-11e8-a54f-b39ee5277159.html