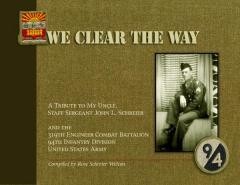 Click on book cover to enlarge
A Tribute To My Uncle, Staff Sergeant John L. Schreier
and the 319th Engineer Combat Battalion,
94th Infantry Division, United States Army
68 p., b&w photographs, $15.00, plus $3.50 shipping
Available from: Rose Welton, P. O. Box 22704, Juneau, AK 99802 (907) 364-2779
Any profit over designing/printing costs will be donated to the National World War II Memorial Campaign, in honor of and memory of the 319th Engineer Combat Battalion
General Dwight D. Eisenhower called World War II an "Engineer's War," using transportation infrastructure to field a highly mechanized, mobile fighting force. The Combat Engineers made that mobility possible, building bridges, clearing mine fields, providing support infrastructure and opening roads. Everything was done on the double, while under constant bombardment from enemy forces. These were ordinary men, extraordinary soldiers, American heroes.
Following its stateside training at Camps Phillips and McCain, the 319th Engineer Combat Battalion headed off to the European Theater aboard the RMS Queen Elizabeth. Through the Brittany Region of France and into the Saar-Moselle Triangle of Germany, they "cleared the way" to support the 94th Infantry Division.
Through the writings of two American soldiers, one, a wartime journal and the other, a memoir written 55 years after the war ended, the reader shares in the "dogfaces" day-to-day activities, camaraderie and the horrors of fighting in Nazi-occupied Germany.
In this tribute to her Staff Sergeant uncle who was killed in Germany in 1945, Rose Welton embarked on an investigation of her uncle's life, through interviews and correspondence with the men he served with in the 319th Engineers. She offers this poignant compilation of memories, photographs, and documents in a tribute to her uncle and those who fought alongside him in the 319th Engineers and helped "clear the way."
Home
Last Update 3 November 2001
This Site Designed & Maintained by
WeClearTheWay@haruth.com