From: "Meri, Judith" <merij@SDCL.LEE.ARMY.MIL>
Subject: Photos - Jesse Edwards, 302d, Co A, 3d Platoon
Date: Wed, 19 Jul 2000
Would appreciate hearing from anyone who may have known Jesse Edwards or who recognizes any of these men. Hopefully, these photos might help someone else who is searching.

Thanks for your help.
Judith Meri
427 Cobblestone Drive
Hopewell, Virginia 23860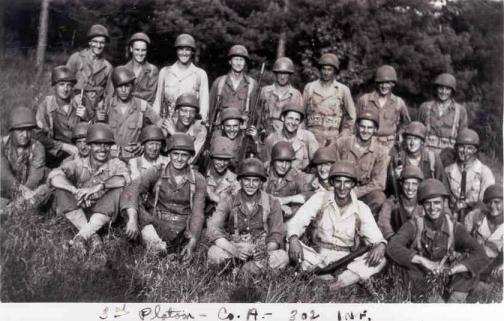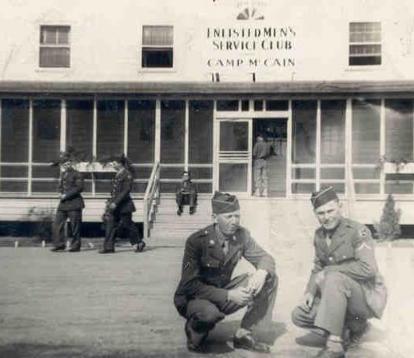 From: MR2NC@aol.com
Date: Wed, 23 Aug 2000
Subject: Alfred J. Dionne

Does this person look familiar?
his name is Alfred J. Dionne he

served with the 94th 301st IR "C" company. looking for anyone who knew him. Can you help?

Gene Grenier
421 Ticonderoga Rd
Va beach Va 23462
From: "Billy LeJeune" <campljn@earthlink.net>
Subject: grandfather
Date: Sat, 17 Jun 2000
Dear Sir,
My grandfather served with the 94th infantry ( Wilfred "George" LeJeune). I was not aware of the details of his service untill after my father passed away. I have many photos of him with many other soldiers in France. I can scan them into my computer and send them to you or even donate any duplicates.
I am a helocopter pilot for the 2nd Armored Cavalry Regiment and I would like to attend a reunion. I want my young son to understand that history runs in our blood.
I wish I had more information about my grandfather's award and service. I understand that he was not a model soldier, but still a soldier none the less. Is there a list of basic awards that the unit recieved? Please let me know if you would like the photos and if there is any inof. about my grandfather.
Thank you
Billy LeJeune
1LT,AV Army
From: Paul Delgado
Subject: 94th Division,376th regiment,company F
Date: Tue, 20 Jun 2000
Hello Sir,
My father, Sgt. Manuel Delgado, served in the 94th Division, 376th Regiment, Company F, during World War II. He landed at Normandy and was involved in action around St Nazaire. He was decorated with the bronze star and was also awarded with the purple heart.We would like to get more information on him and on Company F.
Could someone from the 376th/Company F contact him at his email address : Delgado99@email.msn.com
Thank you very much
Paul Delgado
Pdelgado@iwgphil.com
From: "Lopez, David" <David.Lopez3@compaq.com>
Subject: Information Requested
Date: Wed, 5 Jul 2000
I was wondering if someone can help me. My grandfather is Derwood Henry Goode, he served in the 94th out of Ft. Benning, GA in Germany during WWII. He was a POW after Normandy and this is about all we can ever get from him. Obviously it was a painful experience for him and he really doesn't talk about it. He is fine man and has lead a great and productive life, but these events, as it had for many men shaped who he is and I would like to find out more information. Specifically about where he served, what battalion/Unit he was in, where he was captured etc.. Can you be of any assistance?
Sincerely,
David Lopez
From: grandandpapa@juno.com
Date: Tue, 25 Jul 2000
Subject: Searching for information on my Brother
Am searching for information on my brother who was in 94th, 302 his name is James W.Glasgow Pfc. U.S.Army 38371673, I would like to know if he was in your unit when he was killed at Luxemburg 1944. He was in Tank Destroyers at Camp Hood, Texas for basic and then I think he went to Georgia after that overseas an apparently put in infantry. Would appreciate any information as to what battle he was in when killed. Was it the Bulge as some one wrote my parents?
the letters about his death burned in a house fire years ago..
My parents received some medals from the war dept. or some where, but still don't know for sure where he was when he was killed.......Maybe someone out there was acquainted with him. Would like to hear
I am Bill Glasgow
Wichita Falls, Texas
E-mail grandandpapa@juno.com