Jim Maggetti rifleman survived Battle of the Bulge
REBECCA YERGER newsroom@napanews.com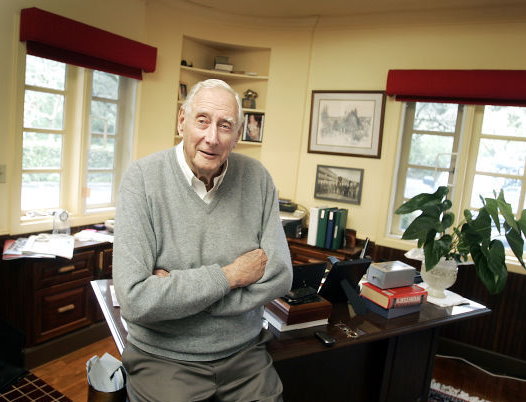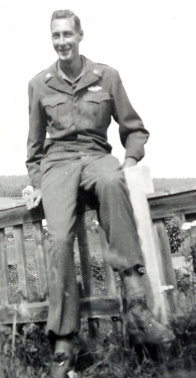 Jim Maggetti was a 20-year-old rifleman who was caught up in the Battle of the Bulge, a major World War II battle, 70 years ago. 
But for World War II, Jim Maggetti, Napa High Class of 1942, would have been at U.C. Berkeley 70 years ago, studying civil engineering.
Instead, he was a grunt in Gen. George S. Patton's 3rd Army, 94th Infantry Division, when one of the war's decisive battles, the Battle of the Bulge, broke out on Dec. 16, 1944.
On the anniversary of that battle, Maggetti, who is now 90 and retired from careers in steel and banking, reflected on Hitler's desperate move to stave off defeat for Germany. He recalled the brutal conditions that he and his fellow American soldiers endured
The Battle of the Bulge, named for the bulging appearance of the battle lines on maps, was fought in Belgium and Luxembourg. The battle was a last-ditch, surprise attack by the German forces.
Initially the German army did succeed in cutting off the British and Canadians in northern Europe as well as seizing control of the Ardennes river — a key supply route and defense line.
"The Allies were surprised Hitler could muster so many soldiers for the attack," Maggetti said. "The Germans were actually quite formidable. And, contrary to the popular opinion, their Panzer tanks were superior and almost impossible to knock out."
In response, the Allied Forces mustered all they could in their "Counteroffensive Ardennes." Maggetti was part of that effort. Because he and his fellow platoon members had combat experiences while in France, they were shipped to Luxembourg to support American units already at the Battle of the Bulge.
"We were moved to the front by train in boxcars. There were 40 men — a platoon of 39 soldiers and one commanding officer — jammed into each of those boxcars," Maggetti said. "I can remember how it got colder and colder the further north we traveled, making those cramped boxcars even more uncomfortable."
After arriving at Bastogne, Belgium, the men were trucked to the battlefields. "Those trucks were open, having no covering or top." Maggetti said. "Being open like that gave us a chance to escape if we were attacked versus being trapped inside by the covering."
"It was so cold! And, to make it even worse, the exhausted driver accidentally veered off of the road and dumped us in the snow."
Initially, "we were in a heavily wooded area surrounding little farming villages. The houses were destroyed by bombing, abandoned and had no utilities. But we used them as shelters and started campfires inside to stay warm. Entire platoons would huddle inside a house or ruin."
"We set up a line of foxholes in between those shelters as we did have some artillery action," he added.
The weather conditions during the Battle of the Bulge were extreme. At first it was rain that turned to freezing rain and then snow. Adding to that miserable mix was heavy fog grounding the Air Corps.
"It was dark more than light. I had never been so cold in my life," Maggetti said. "We were ill-equipped for those conditions. It was a real misjudgment on the part of the U.S. Army. Our boots were not waterproof and neither were our cotton socks, gloves and uniforms. As a result, our feet and hands were constantly wet and cold or freezing."
"We didn't get waterproof boots until February," he said.
"The fallout from those inadequate boots was the development of trench foot," Maggetti said. "It is the slow freezing of the foot caused by the inhibiting or stopping of the blood circulation. It causes pain, sores and infections which can lead to the need for surgical amputation of the affected foot. Trench foot was very common. I developed it, too."
Some soldiers had it even worse. "Many of the men also developed frostbite. Some of them even lost fingers and toes to frostbite," he said.
A break in the weather marked a shift in the Battle of the Bulge. Maggetti said, "On Christmas Day it was rather dramatic as the sun broke through. This allowed the Air Force to take off. They dropped desperately needed supplies to us. They also started attacking the Germans shortly thereafter."
Soon Maggetti's trench foot needed medical attention. He was transferred to a Luxembourg hospital. "When I left, there were only two others left from our original platoon of 40 men. Our platoon was essentially gone," he said.
The Battle of the Bulge proved to be the most catastrophic World War II battle for America. The 41-day-long battle beginning Dec. 16, 1944, and ending on Jan. 25, 1945, killed 19,000 Americans and injured 47,500 more. An additional 23,000 Americans were either captured or missing.
While Maggetti was in the hospital he was also diagnosed with yellow jaundice, which required immediate treatment and longer hospitalization.
"But I did finally return to the front line a couple of weeks later although the Battle of the Bulge was essentially over, and the Germans had been pushed back into Germany," he said.
"Gen. Patton, however, really wanted to cross the Saar river and advance through Germany for his own glory. But the Germans were well fortified and charted every inch of their front line. Regardless, Patton ordered us to cross."
Maggetti's platoon managed to make it across the river and hunker down without the notice of the Germans, at first. But this advance was fraught with problems, especially the mechanical failure of the motor launches. All of the extra activity required for resolving the transport problem caught the Germans' attention and their firepower. They also became aware of Maggetti's platoon.
"So they shelled us. One mortar killed some of our platoon, including the lieutenant — our commanding officer," said Maggetti.
Without their commander, Maggetti and his remaining fellow soldiers had to make the critical decisions regarding their movement and actions. Maggetti and another soldier decided to go out and survey the area. They climbed up to an elevated point and screened a position where they heard a loud explosion.
They saw a unit of German soldiers trying to destroy a German machine gun battery to prevent it from falling into American control. From their perch, Maggetti and his compatriot fired on those soldiers.
"They didn't know where the gunfire was coming from or our location," said Maggetti. They succeeded in neutralizing those German soldiers. That action was eventually acknowledged and honored by the U.S. Army with the awarding of the Silver Star medal.
Maggetti finally received his Silver Star in the late summer of 1945 while he was a part of an occupation platoon stationed in Czechoslovakia.
"Originally we were looking forward to going to Czechoslovakia because we had heard about their great spas and resorts," he said. "But when we got to our assigned location, it was a little isolated village with no resorts or spas. And our quarters were in an old tiny schoolhouse."
"To make matter worse, we noticed there were no young women in town except for a school teacher who served as our translator," he added. "Apparently the perceived reputation of the American soldier preceded our arrival. We eventually found out the town had sent their young women to another town to protect them from us."
In January 1946, Maggetti was discharged and sent home to his eagerly awaiting family and friends in Napa. Maggetti soon returned to U.C. Berkeley to eventually earn two bachelor's degrees and a master's degree. He later became a vice president at Kaiser Steel, then served on the boards of Napa Valley Bank, Westamerica Bank and Oregon Steel.
While pursuing and living the American dream, Maggetti has never forgotten his European battlefield experiences, especially his memories from 70 years ago of the Battle of the Bulge.