Michael John Majoros Sr.,
age 98, of Glen Burnie, MD, died peacefully on December 19, 2014.
Mr. Majoros was a loving husband, father, grandfather and uncle. He was a man among men. Born of immigrant parents on August 23, 1916, Mr. Majoros lived his first eight years on a dairy farm in Flemington, NJ and then moved to Roebling NJ, where he and his father and his 3 brothers all worked at the Roebling steel mill. He was proud of having helped manufacture the Golden Gate Bridge cables.
Mr. Majoros was drafted into the Army during WWII where he was promoted to Sergeant while in training. He served in the 94th Division AntiTank Company, 376 Infantry Regiment of George Patton's 3rd Army and fought in the Battle of the Bulge and others. He received a Bronze Star and a Battlefield Commission to 2nd Lieutenant signed by General Patton.
Mr. Majoros spoke several languages including Russian and consequently was placed in charge of the Russian displaced persons that had been used as forced labor. He was training to invade Japan when WWII ended. Eventually, Mr. Majoros was sent to the US Military language school in Monterey CA, and then to Japan, serving under General MacArthur. Lt. Majoros used his language skills to participate in covert activities while also acting as Judge Advocate General.
In Japan, he met and married his wife Celia Shryock of St. Paul MN, who was serving there in the Red Cross. Mr. Majoros subsequently served in Korea, as well as several stateside posts before being transferred to Ft. Meade where he attended night courses and graduated from the University of Maryland while directing the 525 Military Intelligence Group.
In 1962, he retired from the Army as a Major, and started a new career in Real Estate and as a CLU. Mr. Majoros was well-known to the business community from Glen Burnie to Annapolis. He was also a talented and respected artist from the time he was a young man. He was a devout Catholic and a member of St. Bernadette's Parish. He also attended services with his wife at the Harundale Presbyterian Church. Mr. Majoros was well-known as a kind man and an interesting story teller.
Mr. Majoros succeeded his wife Celia who passed away in July 2014 and is succeeded by his children, their spouses and children: Michael J. Majoros, Jr. and Carol; Marion J. Phennicie (nee Majoros) and Frank; Kathleen A. Ortega (nee Majoros) and James; and grandchildren: Raymond Dorschel, Michael III and Sarah Majoros; Scott A. and Shannon Majoros, Mathew E. Majoros, David Ortega and Jennifer and Patrick Kimmel.

Vincent Sacco Engineer who worked with aerospace projects, WWII prisoner of war and lifelong tennis player Vincent Sacco, a decorated World War II veteran, P.O.W., and public servant, died peacefully on Nov. 9, 2014, surrounded by family, after a well-fought battle with cancer. Cremation will be private. A memorial to honor Vince's life will be held Saturday, Nov. 15, from 2 to 4 p.m. at the S.J. Priola Parsippany Funeral Service, 60 N. Beverwyck Rd., Lake Hiawatha, N.J. 07034.
Vince's Army decorations included the Combat Infantry Badge and the Bronze Star for bravery. After he was discharged in 1945, he entered Tri-state College in Indiana under the G.I. Bill. Vince earned a B.S. in electrical engineering and a master's in management engineering at the former Newark College of Engineering.
His engineering career with government projects started in reseach and design as the transponder program manager for the manned aerospace programs - Mercury, Gemini and Apollo. Vince was the director of technical and customer service for Becton Dickinson when he retired in 1993. After retirement, he was interim Montville Library director and the computer training instructor.
Vince belonged to Montville UNICO, Kiwanis, V.F.W., and American Ex-Prisoners of War.
He was an avid tennis player all his life.
Vince is survived by his beloved wife, Joan, along with their four children, Susan (husband Lee), Robert (wife Randi), James (wife Tania), and Daniel, and five grandchildren, Jeff, Greg, Eric, Ben and Rachel; his sisters, May Perillo and Annette Votruba, and two nieces and two nephews. In lieu of flowers, donations may be made to American Ex-Prisoners of War, Garden State Chapter 1, c/o Robert Levine, 655 Pomander Walk, Apt 4100, Teaneck, N.J. 07666.
Published in Star-Ledger on Nov. 12, 2014 - See more at: http://obits.nj.com/obituaries/starledger/obituary.aspx?n=VINCENT-SACCO&pid=173136713#sthash.6UIhirgJ.dpuf
Subject: Frank A. Guzek 94th Inf. Div. 301st Inf. Reg. Taken POW 21 Jan. 1945
From: tcschultz@aol.com
Date: Tue, 18 Nov 2014

Frank A. Guzek

Frank A. Guzek 1915 - 2011 CHICOPEE - Frank A. Guzek, 95, a lifelong Chicopee resident, passed away peacefully on Tuesday, January 25, 2011 at Baystate Medical Center with his loving family by his side.

Born on August 28, 1915, a son of the late Jan and Agnes (Sadej) Guzek, he was a communicant of the Basilica of St. Stanislaus, Bishop & Martyr.

Frank was a US Army veteran of World War II, served in battles in Northern France, Rhineland, and Central Europe, and was a M.I.A. until freed from a prisoner of war camp in Germany.

For many years Frank worked as an advisor in the Engineering Department of Savage Arms and retired in 1980. An avid sportsman, Frank excelled as a golfer, bowler and skeet shooter, and for over 50 years was a member of the Orchards C.C. Frank cheered for the Red Sox and the Duke University basketball team. He was an accomplished cook, and an avid reader and crossword puzzler. Frank belonged to the 25 Year Club of Savage Arms and was a director of its Credit Union. His favorite times were spent in Maine with his family.

He was pre-deceased in 1999 by his beloved wife of 57 years, Adele G. (Cygan) Guzek. Frank is survived by his two loving daughters, Francine DiLisio and her husband David, of Southampton and Theresa A. Shuman and her husband John, of Chicopee; his sisters, Bertha Guzek and Barbara Gazda and her husband, Chester, all of Chicopee; and several nieces, nephews and good friends. He was pre-deceased by his brother, Stanley Guzek and his sisters, Sonia Kielb and Mary Jaszek. Frank's family would like to sincerely thank his doctors and their staff at Riverbend Medical Associates, and the staff of Baystate Visiting Nurse & Hospice, the Mercy Medical Center Infusion Suite, and the Katz Oncology Unit at Bay State Medical Center.
Altamont artist, teacher, WWII veteran Ed Cowley dies at 89
Altamont
Artist Ed Cowley, a World War II veteran who ushered in a golden age at the University at Albany's art department as chair starting in the 1950s, died Saturday after battling Alzheimer's disease. He was 89.
He brought the muscular energy of abstract expressionism and Cubism to canvases and stained glass works that reconstituted Victorian mansions and pastoral landscapes of his beloved village. Up and down picturesque Main Street, Cowley's abiding love for Altamont's architectural heritage and its close-knit community feel is evident.
Decades ago, he helped save the old Victorian railroad station from the wrecking ball; it now serves as a newly renovated library and deep source of communal pride. He helped re-build a deteriorated gazebo in the village square. He organized the horseshoe league at the VFW Hall. He designed the patriotic red, white and blue sign of the Home Front Cafe and left his memoirs and memorabilia at the combination eatery and homespun military museum.
He was a stalwart of the Altamont Fair and the Scottish Games at the fairgrounds. His roots were Buffalo Irish and he possessed a sly wit and occasionally spoke in a thick brogue for effect.
"He was part of the fabric of Altamont and did so many good things for the village," said Cindy Pollard, co-owner of the Home Front Cafe with her husband, Jack. The Pollards socialized and traveled with Cowley and his wife, Bette.
"He was a fantastic individual and a helluva good man," Jack Pollard said.
The Cowleys lived for five decades in a funky, rambling house and studio above Main Street on a wooded property that drew blue-collar villagers and prominent artists to frequent parties and an annual spring art show where Cowley displayed his pointed commentaries and black humor on painted plywood hung from trees. The house was famous for a bejeweled, phantasmagoric stained-glass room that Cowley created. He played Irish music, loudly.
"He was an inveterate protector of culture and history of the village," said Altamont Mayor Jim Gaughan, who knew Cowley for 30 years. Cowley also drew other artists to live in the village, inspired by his prodigious artistic output in many media and fierce civic engagement among the village of 1,700 people.
"Ed embodied the spirit of the '60s and he used that revolutionary zeal and vigor to preserve the village he loved," said Gaughan, who recalled Cowley leading fights against powerful corporate interests who wanted to tear down Victorian mansions to build business offices in the village.
The onset of Alzheimer's, failing eyesight and the challenges of old age did not keep him from his daily rounds: coffee at Stewart's, lunch at the Home Front Cafe, a cold beer with his buddies at the VFW post.
"Whenever something needed to be done in the village, we went to Ed," said Nils Mockler, a longtime friend of Cowley's, who played horseshoes with Cowley at the VFW. Mockler was a Marine Corps veteran who fought on Iwo Jima. Cowley served with the 94th Infantry Division of Gen. George Patton's Third Army and fought through the Battle of the Bulge and some of the fiercest combat of the war. Cowley and his unit also helped liberate Nazi death camps.
"Guys who were really in combat don't talk about it," Mockler said. "For those of us who got close enough to smell it, there was nothing good to say about it."
Mockler and Cowley enjoyed the camaraderie and good-natured ribbing that accompanied the loud clang of horseshoes hitting posts "He was great at horseshoes and I was lousy," Mockler said. "But I reminded him I was a 'hot shot' and a professional at soldering and my solders were a lot better than the ones he made on his stained glass."
In his later years, Cowley wrote essays for the Altamont Enterprise, including one that explained his nuanced view of the military beneath the headline, "Let us honor heroism without mongering war."
While he was proud of his World War II service, Cowley also led anti-war protests during the Vietnam War on the UAlbany campus.
"Ed was very modest and many people didn't realize how prominent he was in the art world," said Marijo Dougherty, retired director of the University Art Museum and a resident of Altamont who knew Cowley since she was a UAlbany art student in 1970. "Ed never had any airs about him."
Cowley earned a bachelor of fine arts from Columbia University and his work was widely collected and exhibited, including a major retrospective in 2012 at Albany Center Gallery.
Cowley assembled an all-star art faculty in the '60s, including printmaker Thom O'Connor, painter William "Bill" Wilson, art historian Mojmir Frinta and printmaker Robert Cartmell — those last two also became his neighbors.
"He was a pioneer in so many ways," said Lou Ismay, of Altamont, retired UAlbany environmental studies instructor who knew Cowley for nearly 60 years. "He was an observer, a social critic and a doer. We'll miss his great sense of humor."
"There's a huge gap in our family that can't be filled," said his daughter, Kathleen. "We'll miss his kindness, gentleness, ethics and counsel."
Cowley is survived by his wife of 66 years, Bette, four grown children, 10 grandchildren and one great-grandchild. A son, Billy, was killed by a drunken driver at age 5.
From: Bruce Dunn
dunndealmi@gmail.com
Subject: Sad News / Death of Lambert Dunn
Date: Wed, 10 Sep 2014
Theresa, Gery & Karen, and Harry Helms,

Hi all Up North -
I just wanted to let you know that my father Lambert C. Dunn, passed away early this morning in Bradenton , Florida after a brief illness. He had served in WWII in the 94th Infantry Division, 301st Battalion, Company A. He also received a Purple Heart for his military bravery. Dad had celebrated his 90th birthday with our family last month on August 17th. A funeral mass will be held at Our Lady Queen of Martyrs Catholic Church and internment in the St. Francis gardens, announced at a later date. We are in the process of notifying family & friends, and making the final arrangements for services. I expect these will happen early next week ( 9/16-9/18 approximately). Once we have his obituary and additional information, I will send that along to you all.
Kind regards,

Bruce

Bruce Dunn & family
From: "Kevin Jerome" <jerome52@sbcglobal.net>
Subject: Arthur W. Hutchison - I/301
Date: Wed, 6 Aug 2014
Arthur Wilford Hutchison 94, of Kirksville, MO passed away on November 23, 2013 at Twin Pines Adult Care Center in Kirksville.
Arthur, son of Perry and Bertha Hutchison was born on March 16, 1919 in Denver, MO. On May 22, 1946 in Shelby County, MO he was united in marriage to Byrda Eythel Jerome, who preceded him in death on July 14, 2010.
Arthur was educated in Knox County, MO and was a long time resident of Adair County, mostly in the Trinity community. He was a member of the Trinity United Methodist Church where he was active until his health did not permit.
Arthur served in Company I, 301st Infantry Reg., 94th Division in France and Germany during World War II. He was a 1st scout and saw action near Lorient, France in the summer and fall of 1944 and also on the Sigfried Line during the Battle of the Bulge in France and Germany during the winter of 1944/45. Arthur froze his feet during the Battle of the Bulge and was hospitalized for the remainder of the war. He was discharged from the military on the 17th of February, 1946 as a Private First Class. He served in the European African Middle Eastern Theatre as well as the American Theatre Campaign and was awarded the Good Conduct Metal. A true American hero!
Arthur was happiest on their farm in rural Adair County, taking care of his cattle and the farm. He loved family and friends. Arthur was always there to lend a helping hand and will be missed by his many friends and nieces and nephews.
Robert M. Simonds, 89, resident of Mercer Island, WA, passed away Thursday, July 17th, 2014. Born in Pasadena, CA, on June 23, 1925, Robert, or Bob as he preferred, was the son of the late Merle and Ida Simonds. Bob received a Bachelors Degree from UCLA, where he was a member of the Delta Sigma Phi fraternity, a degree in Structural Engineering from UC Berkeley, and a Ph.D. in Physics from Stanford University.
Bob grew up in Southern California enjoying the sunshine and surf, then went on to serve in the Army in World War 2 as a Corporal and Rifleman. He received 3 Bronze Stars and fought in the Battle of the Bulge.
Bob married Betty Miller Simonds on April 6, 1963 in the Stanford University Chapel. They went on to live in Portola Valley, then following his Ph.D., moved to Weston, MA to do postdoctoral work at Harvard in their accelerator lab. After 2 years in Massachusetts, and following the birth of their only daughter, Monika, they relocated back to Northern California to Sunnyvale, where Bob succeeded in research in aeronautical engineering.
In 1981, the family moved to Mercer Island, WA, where Bob continued to enjoy skiing, tennis, gardening, and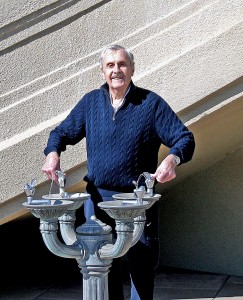 photography for many years with Betty. Bob and Betty enjoyed several trips to watch the Oregon Ducks play college football in Eugene, Oregon. They additionally traveled frequently to visit friends and compatriots with the 94th Army Infantry veterans. He also served as President for one year and Newsletter editor of the local Probus Club from 2006 until 2014.
Bob is survived by his wife Betty of 51 years, and daughter Monika. His sense of humor, dry wit, and general joie de vivre was a joy to us all. He was much loved and will be dearly missed.
A Memorial Service will be held on August 16th, from 2 pm to 4 pm at the Mercer Island Community Center, 8236 SE 24th Street, Mercer Island, WA 98040.


Hyman Kroll, 94, of South Orange We who knew Hyman called him HY.
His Obituary in the NJ Jewish News is quoted here:
"Hyman Kroll, 94, of South Orange died June 28, 2014. Born in Brooklyn, he lived in South Orange for the last 20 years.
Before Mr. Kroll's retirement, he was employed as a salesman in New York City's garment district.
He served in the U.S.Army during World War II.
He i survived by his sister, Renee (Frank) Katz of West Orange.
Services were held June 30 with arrangements by Menorah Chapels at Millburn, Union."
Albert R. Hoffman was born December 27, 1918 in Auburn Indiana. The son of Darrell and Cleora Hoffman, he was raised in Bryan Ohio and graduated from Bryan High School in 1936. He died March 6, 2014.
World War II interrupted his college work and he entered Army service in 1942. He took basic training at Ft. McClellan, AL, and Officer Candidate School at Ft. Belvoir, Va. November 27, 1943 he married Carol Cullis shortly before he was to be deployed to the European front as a commissioned officer in the army. This past November they celebrated their 70th anniversary.
During the war, Al served in the 94th Infantry Division in Europe as an Operations Officer, Battalion Executive, and Battalion Commander of the 319th Engineer Combat Battalion. He received a battlefield promotion from General Patton despite his dog beating up "Willie", the General's dog. Among the many events Al participated in were the Battle of the Bulge, the famous Lipizzaner horse rescue, and the liberation of the Dachau concentration camp.
He remained in Germany after the war in the Occupation Army and was joined by his wife. During this time he commanded a displaced persons camp in Czechoslovakia. Al and Carol evolved into a military family for the first 30 years of their marriage living in many states and Germany and raising their three children.
In 1950 Al served in the Korean War commanding the 808th Engineer Battalion engaged in construction of forward airfields. In 1952 he returned to the USA as a Battalion commander, then Group Executive Officer of units engaged in construction of the missile range in the Bahamas Islands.
He became interested in the emerging field of computer science, and its potential for solving military problems, many of which he observed in the Korean conflict. His research led to installation of the first overseas computer installation for the US Army, and he is recognized as a pioneer in applying computers on a large scale to military situations.
He served as Director of Data Systems for the Defense Supply Agency and from 1969 to 1972 was Deputy Commander of the US Army computer Systems Command. He was responsible for developing and controlling all Army multi-commend systems world-wide, including the Viet Nam combat area. Al retired from the Army in 1972 with the rank of Colonel. He joined the Chrysler Corporation as Manager of Long Range Planning., and stayed in that position until full retirement in 1978.
Along the way he managed to complete his university education. He has the unique distinction of receiving a master's degree (George Washington University) before he received his bachelor's from the University of Maryland. Among his military awards and decorations are eight battle stars, two Legions of Merit, three Bronze Stars, and two Army Commendation Medals. He was inducted into the US Army Engineer Hall of Fame as a charter member in 1970.
His civilian and retirement life proved as active as his military service. He and Carol returned to Bryan Ohio to be close to family. During that time they also enjoyed their time up at their cottage in Canadian Lakes Michigan where he became interested and active in producing variety shows and, of course, perfecting his golf game. Eventually they moved to Indian River Colony Club in Melbourne, Florida where for twenty years, he wrote, produced and served as master of ceremonies of the "Fogie Follies".
He is survived by his wife Carol Cullis, children Andrew, Panama City Florida, Alan (Linda) DeWitt Michigan, and DeeAnn (Brian Beifus) of Fort Wayne, Indiana. His grandchildren are Elizabeth Hoffman, Melissa (Jordan Grauer), Matthew Hoffman, Brian Hoffman, Allyn Hoffman Beifus and Veronica Hoffman Beifus. Also surviving are his sisters Lila Brannan, Lois Bockover, and brother Roy Hoffman. He was preceded in death by his parents, Darrell and Cleora Hoffman, brother Burnell, sister Ila Shutte and grandson, Andrew Russell Hoffman.
Services were held March 9, 2014, at the Indian River Colony Club chapel in Melbourne Florida. Interment will be at a future date in Arlington National Cemetery.
Memorials may be made to the Humane Society, Salvation Army or Red Cross.512 Beacon Cir, Grand Forks ND, 58201

ALBERT, Louis Armand
August 2, 1924 - October 15, 2011
We are saddened to announce the passing of Louis A. Albert of Van Buren, ME, Quebec City and Montreal at the age of 87. Louis was a World War II veteran and received the Bronze Star for his bravery and heroism in the Battle of the Bulge.
He was well-known for the many years he devoted to scouting in and around Montreal. Husband of the late Marielle (née Champoux) and of the late Patricia (née Tracy). Brother of Paul André (Jeanne) of San José, CA, the late Madeleine (Aubrey Cyr) of Little Nahant, MA, Marcel (Mary Rose) of Stoddard, NH, the late Paul of Bremen, ME and Gilles of Christchurch, NZ. He leaves to mourn his children, Frank (Lynda), René (Arlene), Mary Ann (Joe), Lucie (Louis), Simon (Kathey) and Gerry Routledge (Barbara) as well as many grandchildren, great-grandchildren, cousins, nieces, nephews and friends. The family is grateful to the staff at the Jewish General Hospital for their care in Louis' final days. As per his wishes, there will be no service but a Celebration of his Life will be held at a later date. In lieu of flowers, donations in Louis' memory may be made to a charity of your choice and raise a glass of single malt scotch in his honour.
To offer condolences, please visit www.kanefetterly.com
Date: Sat, 29 Mar 2014
From: <michaelantonio1@cox.net>
Subject: SGT. Orlando Antonio of F/376
SGT. Orlando Antonio passed away on Feb. 14, 2014 at Cherry Hill Rehabilitation Center in Kansas City Missouri after fracturing his leg.
Orlando was 92 . He is survived by his wife and two sons and a brother and sister. Orlando was layed to rest at White Chapel Cemetery in Gladatone Missouri. Orlando was a Lifetime Member of the 94th.
R/S
Michael Antonio, son
SSgt. USMC 73-75
From: Trevor Wright <mountainsapper12b@yahoo.com>
Date: Thu, 27 Feb 2014
Subject: SGT. Robert Charles For funeral detail
Hello I am the great grandson of a member of the 94th INF H company during ww2 in Germany my grandfather SGT. Robert Charles passed away on the 20th of February. And is set for burial on Memorial Day. This year.
I a former combat engineer(12b) of the US Army and my family was wondering if there were any other members of his company still around and would be willing to be on his detail. If so please feel free to email me @ mountainsapper12b@yahoo.com thank you very much. Essayonce.
Sincerely,
Pvt. Wright.
From: DOND113@aol.com
Date: Fri, 7 Feb 2014
Subject: Florindo M De Rosa Captain Field Artillery
Hello


My father was part of the 94th and fought with them from Sept on in 1944 3 month or so after D Day

He Passed away on Nov 29 1996 at the age of 83


Florindo M De Rosa Captain Field Artillery

I have attached 2 photo's - You have my permission to reprint them if you wish

I would greatly welcome anyone wishing to share any memories they have of him with me.

I am his son - Donald (Don) De Rosa

From: Julie Lynch <julie.lynch@frb.gov>
Subject: Henry Joseph Franclemont, Jr.
Date: Fri, 10 Jan 2014
He was from Buffalo, NY; lived in Clinton, MD from 1962-1990; lived in Vero Beach, FL from 1990-October 2013; lived in Silver Spring, MD from October-December 2013. He was born on August 6, 1922 and passed away from complications resulting from Alzheimers on December 18, 2013 in Silver Spring, MD.
I have a document that he wrote about his service and it states that he was "transferred from the 300th Infantry to the 376th Infantry Regiment, 3rd Battalion, 'L' Company, part of the 94th Infantry Division" in early July 1944. I hope this is helpful. I also found information in his personal effects that says he received a marksmanship medal for rifle.
The Washington Post is supposed to be publishing an editorial about him, but I have not received a copy of it yet.
He is survived by: his wife of 64 years, Evelyn (Sarles) Franclemont, of Silver Spring, MD; his brother Thomas James Franclemont of Buffalo, NY; his sister Mary Elizabeth McDonald of Trenton, NJ; his daughter Dineen Elaine Whipple of Camp Springs, MD; his daughter Lesley Anne Franc of College Park, MD; and 6 grandchildren: Jennifer Whipple Marciano of Stamford, CT; John Whipple of Alexandria, VA; Juliette Whipple Lynch of Waldorf, MD; James Whipple, Jacqueline Whipple, and Joseph Whipple, all of Camp Springs, MD.
He graduated from Seneca Valley High School in 1943 after completing a course of study in industrial subjects. He was drafted by the US Army in November, 1943 and served until January, 1946. He received a certificate in engineering from George Washington University, Washington, DC in 1980. He retired from the Defense Communications Agency in Washington, DC as a Telephone Network Operations Tech in 1988.
During his retirement (until about 10 years ago), he and my grandmother were avid travelers, visiting most of the 50 states, Canada, Mexico, and the Bahama Islands via airplanes, trains, automobiles, cruise ships, and steamboats. He also enjoyed tennis and gardening when he wasn't traveling.
A funeral mass is planned for January 18, 2014, at 7pm at St. Philip the Apostle Catholic Church in Camp Springs, MD.